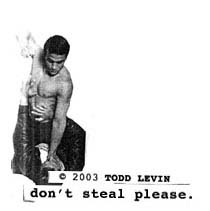 THE BOY WITH PERPETUAL NERVOUSNESS.
My life has always enjoyed a rich balance between passion and gripping, paralyzing fear.It only made sense, then, that I endeavor to plot it along an easy-to-read timeline. Have a nice time with me.
1971: BORN
worshipped:
mommy, daddy

feared:
light, doctors

1978: 7 YEARS OLD
worshipped:
Spider-Man, Mazinga, Popeye, Harry Houdini, Krofft Superstars (except for that show with Jim Nabors and Ruth Buzzi which, even at my age, I found both amateurish and cloying.)

feared:
death, breathing underwater

1981: 10 YEARS OLD
worshipped:
Reggie Jackson, Ron Cey, Boba-Fett, Steve Martin, The Garfield Treasury, clean white paper, Mad Magazine

feared:
girls, twelve year-old boys with fire crackers, pop flies to left field

1985: 14 YEARS OLD
worshipped:
an inherited idea of god, girls, Fangoria, LL cool J, David Lynch, Billy and the Boingers, strong anti-perspirant

feared:
being seen naked, my older sister, public restrooms

1989: 18 YEARS OLD
worshipped:
Mitch Easter, Lou Reed, Black Francis, Kids in the Hall, O.C. and Stiggs, Kurt Vonnegut, Woody Allen, The Adventures of Ralph Snart

feared:
getting caught

1991: 20 YEARS OLD
worshipped:
Calvin Johnson, Francis Bacon, Gabriel Garcia Marquez, Jennifer Shields, Groucho Marx

feared:
1993, male pattern baldness, the inevitability of AIDS (didn't we all, until we found out that heterosexuals without drug problems are invincible once again?)


1995: 24 YEARS OLD
worshipped:
cin-l list-serv, New York City, Wallace Stevens, onion bagels, Yo La Tengo

feared:
auto repairs, new york city, commitment

2001: 30 YEARS OLD
worship:
the Criterion collection, Kool Keith, allmusic.com, the texture of my cats' noses, Tony Hawk Pro Skater 1-3, unlimited ride metro cards, pulled pork, full-sour pickles, Stewart's root beer

fear:
clean, white paper

2003: 32 YEARS OLD
worship:
you!!!
fear:
repercussions