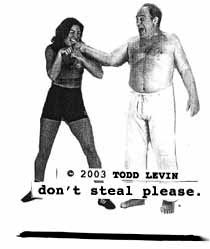 VACATION PLANS.
To me, a successful vacation is a vacation that doesn't end in an Indian attack. Last year, I drove to Newport, Rhode Island with my parents and I hitchhiked back with a severe limp, a pair of scalps in my fanny pack, and a complete disdain for New England. The year before it was the Grand Canyon and some unpleasant words exchanged with a Sioux Indian death squad in the parking lot of a roadside T.J. Cinnabon's. Total bloodbath. I spent a long, horrible ride home, hardly able to finish my cinnamon roll, let alone enjoy it warm. Paris '93 was no better. It rained nearly the entire trip, and my girlfriend took a flaming arrow in the spine.
It has been the same thing, year after year. Lately I feel like you can't enjoy trail-hiking, gambling, or selling cigarettes and firewater out of the back of your truck on a reservation without being in serious danger of a full-scale, whoop-whoop-whooping, bareback, tomahawk and hand-fashioned crossbow Indian attack.
I would like things to be different this vacation. I want friendly, reliable traveling partners capable of defending themselves in the event of an Indian ambush. I want a warm, arid climate entirely free of hostile Indians. And I want some time alone in my covered wagon to write, without having to worry about our wagon train being herded into a circle while armies of bloodthirsty Indians, painted for battle, terrorize the other settlers. I'd rather just stay home, maybe take myself out to the movies a few times, than have another vacation like that.
This year I'm considering a trip to New Mexico, Montana, North Dakota, the Bermuda Triangle, or Knife City. And maybe, for once, I'll have the peace and quiet I so richly deserve.