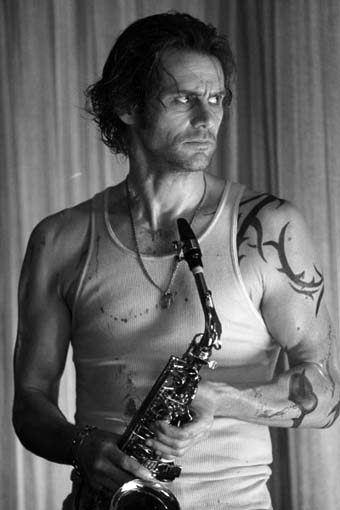 It is incredibly difficult to resist the temptation so many critics and web loudmouths will surely give in to, which is to make a lot of numerology-based jokes at the expense of the film, The Number 23. ("Number of people excited about this movie: 23," "Number of months since anyone has walked into a tattoo parlor and asked for 'tribal barbwire': 23" etc.) But, honestly, sometimes all you need is a picture like the one above.
This photograph looks like the results of someone playing with a set of "How to Sabotage Jim Carrey's Film Career Colorforms®." Every detail in this image meticulously conspires to add a new layer of ridicule to Carrey's attempts at earnestness. Tribal tattoos—check. Ripped biceps—check. Hollowed-out cheeks and harrowed expression—check. Saxophone??? The only things missing from this photograph to make it truly a perfect exercise in awkwardly executed cinema noir is a pair of Ray-Ban sunglasses, a snakeskin jacket, a loose cigarette tucked behind the ear, and a fedora. My God, I wish Jim Carrey were wearing a fedora in this photograph, even if it meant temporarily camouflaging his Light FM Disc Jockey haircut.
I realize it's easy to lose perspective when you're so deep inside a project, but since I really like Jim Carrey I do hope he'll carry this photograph around with himself as a totem, right next to that "check for one million dollars" he famously wrote to himself long before he became a star, to remind him of how horribly miscalculated even his best intentions can be.
In fact, I'd go further. I hope tomorrow, on February 23rd, every web site around the globe will simply display this image of Jim Carrey from The Number 23, without commentary, as a kind of worldwide "Day Without Art" vigil.