For performance calendar, videos, & brags, visit
ToddLevin.com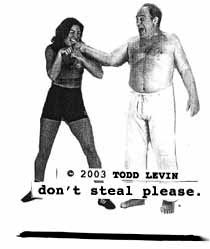 10 UNDESIRABLE QUALITIES FROM MY CHILDHOOD THAT HAVE ENDURED IN 2003.


Tying my shoelaces with bunny ears.

Sleeping with an extra bed pillow held in a tight and loving embrace.

Losing my composure at the sound or sight of the word "titular."

Obvious discomfort around adults. (particularly in the areas of addressing them, drinking wine with them, discussing practical matters with them, or shaking their hands.)

Putting things in my mouth without first washing them in soap and warm water.

Unbridled affection for chocolate cupcakes and Sour Patch Kids. (currently "under control")

Secretly spitting food I don't like into my dinner napkin.

Poor agility with scissors, glue, tape, and girls.

Aspirin makes me vomit.

So does reading.