After a full week of repainting, and two more weeks of fussing, moving furniture, drilling, buying, failing, respackling, sweating, crying, cursing, self-medicating, sitting in garbage, consolidating, reconsolidating, discarding, and deep breathing, my apartment has finally been made-over to my satisfaction.
Check out a "before" picture of my living room: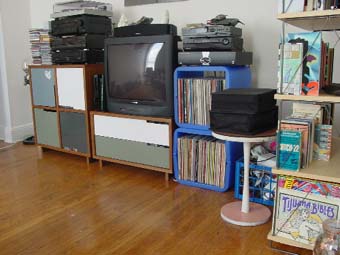 It's crowded, mismatched, and dour. Now, feast your eyes on the results of my intensive makeover. Huh? Huh?
(i haven't had this much fun with something this stupid since i did this.)