I hope you don't mind, but I'd like to draw your attention to this: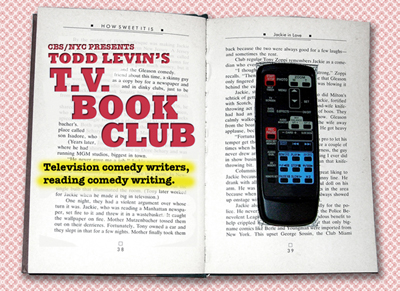 I'm hosting a new episode of TV BOOK CLUB on Monday, September 17th. Hear original pieces written and performed by writers from some of TV's funniest comedy shows. This show is CONAN vs. LORNE. Guests include:
ANDY BLITZ ("Late Night with Conan O'Brien," and featured in one of my favorite remote pieces in Late Night history, "Pop Up Problem")
DAN GOOR ("Late Night with Conan O'Brien")
EMILY SPIVEY ("Saturday Night Live")
BRYAN TUCKER ("Saturday Night Live" and this)
CBS/NYC PRESENTS...TODD LEVIN'S TV BOOK CLUB - Monday, September 17th
All shows @ 8:30 (doors @ 8:15)
@ MO PITKIN'S HOUSE OF SATISFACTION
34 Avenue A, Between 2nd and 3rd Streets
Tickets only $6! Available at www.ticketweb.com or at the door.